History recommended reads:
Love all things history? Then perhaps you might like to consider reading one of my recommended reads: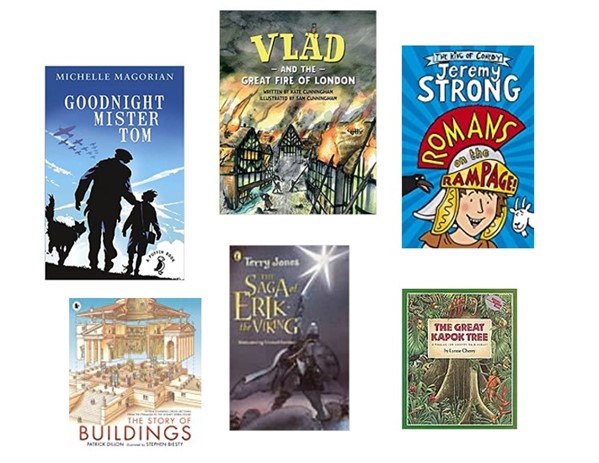 History of Ludlow
Ludlow is a lovely, ancient town that has a past steeped in history. The story beings in 1086 when the castle in the town centre was first developed to help protect the border. The castle was one of the first to be built out of stone too. Since that time, the castle has had a mixed and rich history, changing hands and even having a renovation!
If you would like to find out some more about Ludlow then perhaps you might like to visit one of these places:
Ludlow Castle
Ludlow museum
Take a walk to Caynham camp (a large hillfort dating back to the iron age)
Hop over the border into Herefordshire to visit Wigmore Castle
Visit Stokesay Castle to experience what medieval life was like
Take the local bread walk up to Whitcliffe to be able to see the castle from a different perspective, imagine yourself back in time.
Useful websites:
Ology:
A website that explains how we can learn about the past using artefacts. There are games, videos, stories and ideas to try at home all linked to different times in history
https://www.amnh.org/explore/ology/archaeology#hands-on
The BBC website is full of useful clips about different periods of history and significant people from our past.
Key stage 2 (Years 3 - 6)
https://www.bbc.co.uk/teach/ks2-history/zfbwhbk
Key stage 1 (Years 1 and 2)
https://www.bbc.co.uk/bitesize/subjects/zkqmhyc
Tricky vocabulary?
You may wish to play these games with a parent/carer to help with your understanding of the words and phrases.
Articulate/Pictionary
See if you can work in pairs to describe without naming or draw pictures to help your partner guess your historical word. It is trickier than it sounds.
Example words:
| | | |
| --- | --- | --- |
| Change | Century | Decade |
| Present | Past | Secondary source |
| Primary source | Stone age | Year |
| Month | Invade | Settle |
Memory
You may want to print the words out and face them upside down. Can you turn them over and explain their meaning? Remember you can always use a dictionary to help you  If you get the meaning correct, you get to keep the card.  See if you can play against someone, the winner is the person who keeps the most vocabulary cards.